Brendafrica
Born out of enthusiasm, passion and respect for Africa
Brendafrica advises you on every aspect of planning and organizing your journey, whether it takes you to Tanzania, Zanzibar or Kenya. Would you like to go on a driving or walking safari in East Africa with your family, relatives or friends or would you prefer to join a small group of compatible people?
Do you want to focus on nature or culture or a combination of the two? Our trips are tailor-made to suit both your wishes and your budget.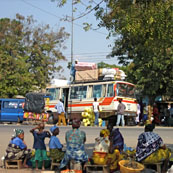 Brendafrica was founded by Brenda Moot. She has over fifteen years experience living and traveling in Africa and organizing safaris and journeys throughout the continent. She currently lives part time in Tanzania, Zanzibar and The Netherlands. Whoever travels with Brendafrica is assured of her knowledge, experience, enthusiasm, love and respect for East Africa and its nature, animals and people.
Sustainable tourism
Brendafrica stimulates sustainable tourism. The money you pay is spent in Africa! We work together with local safari and other organizations that know and understand Tanzanian, Zanzibari and Kenyan culture and nature. We support small-scaled projects and participate in excursions organized by local people. We treat nature with respect and observe East African cultural codes.
Africa opens up to everyone
Brendafrica caters to adventurous people, no matter what age. In addition to well-known African highlights, Brendafrica visits East Africa´s less-traveled nature reserves national parks, remote wilderness areas and little villages not yet discovered by conventional tourism.